Live event painting is a specialty service where a fine artist paints the scene around them as the scene is happening. It requires a painter who is extremely fast, makes quick decisions, and is comfortable with a live engaged audience.
Maggie Smith Kuhn is an artist based in Atlanta, Ga, who paints your event while guests watch her work. The painting usually includes the guests of honor, the venue and party details, and renderings of important guests. Before the end of the night, Maggie will finish your painting and display it to you and your guests. You get to take the completed painting home at the end of the night.
Every live wedding painting is as different as you are. I want each painting to reflect the unique atmosphere of your day. Accuracy in your couple portrait is paramount.
Want to see more? Click the button below to view my full portfolio.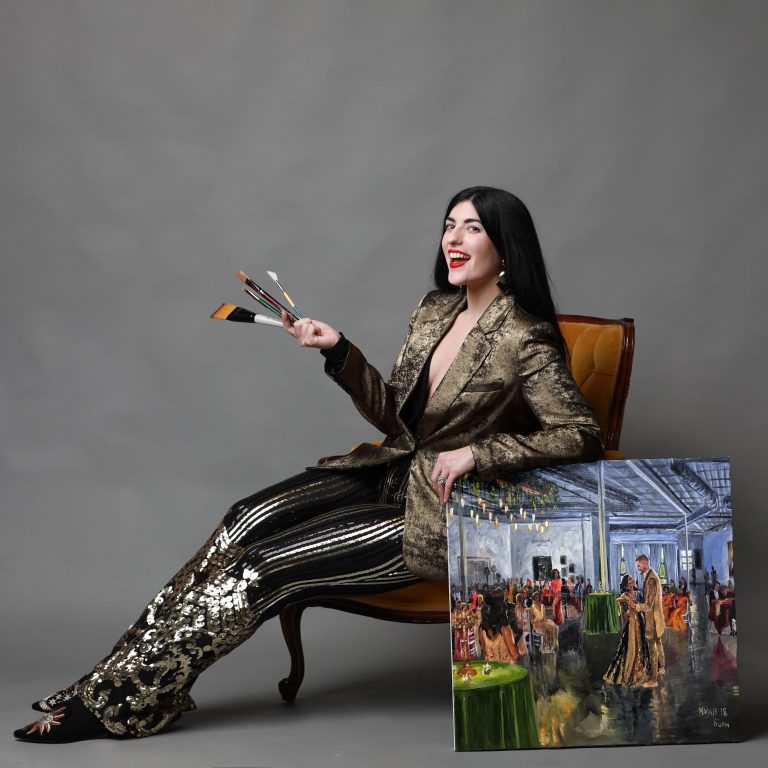 I'm Maggie, a live event artist based in Atlanta, Ga. I've been live painting for over a decade and I love everything about it. My greatest wish is to document your most precious moments in paint, the way kings and queens were painted in the past before the invention of the camera.
I want to wow you and your guests, and create an heirloom your family will talk about for the next 100 years! Let's paint!
My mom surprised me with the gift of having Maggie at Andy and I's wedding to paint our first dance. Maggie even added in our 5 fur babies to the scene. She does more than just recreate a moment for her brides. She gives long lasting memories with every stroke of paint she places. If you or someone you know is getting married, I could not recommend Maggie enough."